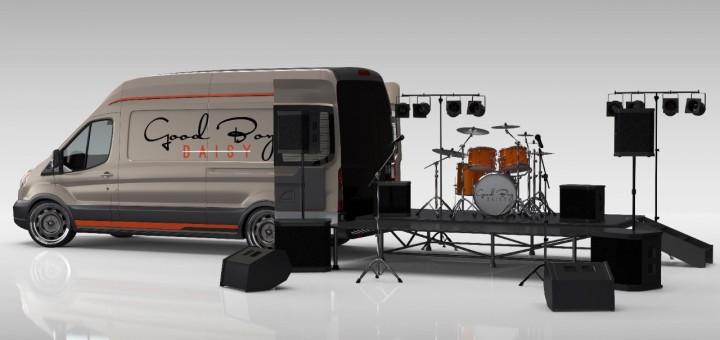 Up-and-coming Scottsdale rock band Good Boy Daisy has a secret weapon in its arsenal of music-making equipment, and it isn't a vintage tube amp or an old Rickenbacker.

No, it's a dual-rear-wheel 2016 Ford Transit 350 wagon equipped with a custom, deployable 13-by-16-foot stage from Edgefinder, which allows the band to make music wherever and whenever. QSC Audio Products powered subwoofers and loud speakers enhance the audio experience, while some GoPower! 3,000-watt industrial power inverters allow the band to plug in whatever gear they need powered.
To help haul all of Good Boy Daisy's equipment around, their Ford Transit wagon is powered by the available 3.2-liter diesel I5 and sprung by Air Lift load lifter 5000 air springs with a WirelessAIR compressor system. A cold-air intake and side-exit catback exhaust from Full-Race Motorsports help the engine breathe a bit better.

Of course, appearance matters in the rock n' roll business. To that end, Good Boy Daisy's Ford Transit wagon wears custom Champagne and Candy Tangerine paint from Automotive Art Paints, with the name of the band displayed proudly on the sides of the body. Sharp, 16-inch polished aluminum wheels from Alcoa wrapped in Hankook DynoPro HT tires sit at all four corners.
Good Boy Daisy's custom Ford Transit wagon is on display at this week's SEMA Show in Las Vegas.

Source: Ford Authority