When a full-service auto resto- ration shop has a well-established, word-of-mouth reputation like that of Mongoose Motorsports in Ravenna, OH, it can be a hard sell to get them to consider switching products.

But that is what Automotive Art did, and now employees are loving the results on the vehicles they paint—everything from semis to motorcycles and all manner of classic and special interest cars in between.
Owner Tricia Krause said the previous owner of Mongoose Mo- torsports convinced her late hus- band, Gary Krause, to leave his job as a shop superintendent at a diecast company to come work at Mongoose.
Tricia said Mongoose's previ- ous owner was impressed by the restoration work Gary was doing in their home garage on a 1963 Chevy Corvette Grand Sport body.
Three years later, in 2009, the previous owner wanted to get out of the business after the economy tanked. Gary wanted to buy it.
"I was like, how are we going todothat?Myquestionhasalways been how are we going to pay for that," Tricia said. "He always said to me, don't worry about it, we'll figure it out.
"It was a struggle in the very beginning because the economy was terrible, but we figured it out for the last 10 years," Tricia said.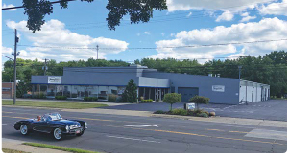 Mongoose Motorsports in Ravenna, OH, is a one-stop restoration shop that recently switched to Automotive Art Paints for its superior finishes.
Those Corvette Grand Sports helped get the Krauses' business off the ground even amidst a bad economy, when Universal Studios asked them in late 2010 to build five identical Grand Sports for its "Fast Five" movie. The order even- tually grew to nine cars, as the studio kept wrecking them while trying to get a shot of the car being stolen out of a moving train near the beginning of the movie.
"That helped us get started, and we are very thankful for the relationship we've built with Uni- versal Studios," Tricia said.
Universal Studios even came back for a Corvette Grand Sport Gasser that was used as an extra in a scene in "The Fate of the Furi- ous," the eighth movie in the fran- chise.
Mongoose Motorsports used its 15 minutes of fame to start build- ing its reputation.